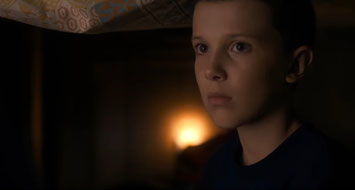 Last week, the long awaited third season of "Stranger Things" finally released on Netflix and it shattered all records. In the first four days, the third season was up, more than 40 million US household accounts have been watching the show and more than 18 million already finished the season. At least that's what Netflix says. Makes you wonder how many people have already watched the show worldwide. I (for one) binged it within 24 hours and I absolutely loved it. All of the characters are amazing, but for me there is one that stands out over all three seasons and that is Millie Bobby Brown (she plays Eleven). The girl is just brilliant. Mind you...I think all of the actors and actresses have done an amazing job so far, but in the first season (for example) the character of Eleven does not have a lot of lines, so she has to do a lot with her facial expressions and body language and she does a fantastic job!  At this moment, Millie can also be seen in the new Godzilla movie: "Godzilla II: King of Monsters" (as Madison Russel). So let's talk some more about Hollywood's 'golden girl'.
Who is Millie Bobby Brown?
Millie Brown was born on the 19th of February 2004 in Spain to British parents. Millie is the third of four Brown children in total. She has an older brother and sister and one younger sister. Millie was born with partial hearing in one ear and over  years she gradually lost all hearing in that ear. When Millie was 4 years old her parents decided to move back to their native country England and they settled in Bournemouth. Back in the UK, Millie got bullied at school, this was so bad that she even had to switch schools. Nowadays, Millie iuses the spotlight to speak out against bullying. UNICEF has named her a Goodwill Ambassador because of her anti bullying campaigns. This makes her the youngest UNICEF Goodwill Ambassador ever.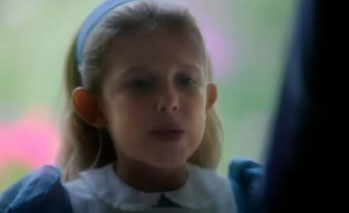 Millie always knew that she wanted to act, she calls it a bug. When she was 8 years old, Millie told her parents that she wanted to perform. Because of this, her parents sold everything and the family moved to Orlando, Florida (USA). In the US, Millie took acting classes as a pastime on Saturdays. In 2013 she made her acting debut in ABC's Fantasy/Drama series "Once Upon A Time In Wonderland" (which served as a spin-off for "Once Upon A Time"), playing the role of Young Alice.  In the few years following, Millie was getting roles in "NCIS" (Rachel Barnes), "Grey's Anatomy" (Ruby), "Modern Family" (Lizzie) and "Intruders" (Madison O'Donell). She also made the shortlist for a lot of huge projects, but never got the major roles. Those were hard times for the Brown Family; they gave up everything for Millie to be able to fulfill her dreams, but they were in a very tight spot at one time. They had to loan money from Millie's manager. But eventually money ran out; they had to admit defeat and moved back to England. At this point Millie thought her career was over before it really started and she wasn't getting any roles in England. Then she got the callback about the audition for "Stranger Things".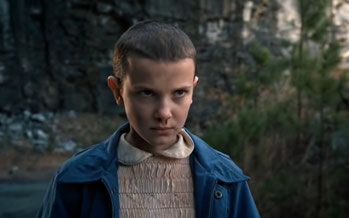 During the first audition she was very emotional, but she got a call back. What followed were multiple (taped) auditions; they were all done with "dummy sides". You might ask: with what?? Well "dummy sides" are fake scenes to test out the actor, without revealing any important plots or story lines. During the final audition, however, she was confronted with a tricky part of her role. She talked about it in an interview. Apparently she was standing in the room with the Duffer brothers (the writers and producers of the show), when Ross Duffer approached her and made a sound; it was "BZZZZZZZZZ". She asked him what he was doing and Ross said she had to shave her head. Brown said she was OK with it, but her Mom was not. Her mom's first reaction was that it was not going to happen, but Millie (and her dad) told her to calm down. Millie said she thought it was fine, because she knew it would grow back. But when she was in the chair and they were cutting it off, she began to doubt her decision and they told her to have the mind frame of Charlize Theron in "Mad Max". And that pulled her through. Now she thinks it's the best decision she ever made (she even posted the video of shaving her head on her Twitter account). 
Brown talked about the preparations for the show in multiple interviews. She said that she (and the rest of the cast) got a lot of homework. The producers wanted them to watch "Poltergeist", "The Goonies" and "Stand by Me". The most important movie, however, was "E.T.". They told her to study the way E.T. interacts with the children. 
"Stranger Things" turned out to be a hit and Millie's star rose to fame. She received critical acclaim and her outstanding performance brought her multiple award nominations and wins. She even became the youngest ever nominee for an Emmy. In 2018 she got her second Emmy nomination for her role in the second season of "Stranger Things". In the year following the first season of the show, Millie started appearing in advertisements and she landed a modelling contract. She also appeared in music videos and got a lot of screen time in talk shows. In 2018, Millie got cast to star in the film adaptation of the "Enola Holmes Mysteries" (Enola is Sherlock's younger sister). She was also chosen to produce the movie, which is set to premiere in 2020. In 2019, Millie made her feature film debut in "Godzilla 2: King of the Monsters" and she will reprise this role in the upcoming "Godzilla vs Kong". And now there is season 3 of "Stranger Things" and Millie does it again! This girl is top notch!
Fun Facts
- She watched a lot of Disney Channel programs, which helped her to speak with an American accent.
- She picked up a Southern accent too and she likes to use it on strangers sometimes "just for kicks".
- While shaving her head she thought about Charlize Theron ("Mad Max") and co-star Winona Ryder ("Alien: Resurrection"). She thinks Ryder was pretty cool with that haircut and hoped she could bring back the pixie look.
- The most important reason for going ahead with the shaving of her head was to change the way people think nowadays.
"Society's telling people that girls have long hair, boys have short hair.' I didn't want to rebel, but I thought, 'I've got to change something, I've got to make sure everybody knows that it's OK to have short hair,' because it is!"
- When people talk to her like she is a boy, she likes to roll with it and calls herself John.
-  In 2014, the King of Horror himself, Stephen King, twittered about her role in "Intruders". He praised her for her acting and called her terrific.
- Millie likes to sing and has a YouTube channel devoted to her singing. You can find her singing covers of Adele, John Lennon, Amy Winehouse and many more.
- She is being home schooled and gets bored easily. To entertain herself she goes to the gym a lot. In there she likes to do some Thai boxing, Jujitsu and normal boxing (she even has a punching bag in her garden). She says she is obsessed with working out.
- Millie likes to write casual essays about whales, dolphins and other things aquatic (except for sharks; they scare the living hell out of her).