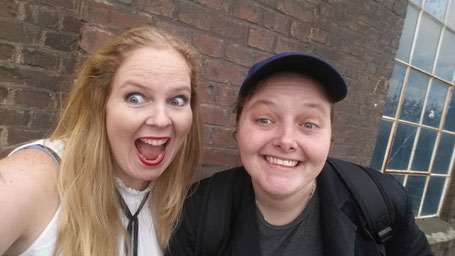 The title of this post already gives away a little bit of what this will be about.. Though it's not only funny moments, but also embarrassing moments. They'll probably be funny for you ;). Liv and I made a series of vlogs to show you the things that happen when we attend comic cons. We'll be showing this series of vlogs to you the upcoming weeks! We (read: I, Carola) say the strangest things. And, really... I don't mind haha. It keeps things alive and interesting. It's just: When you meet an actor you really like,  often you can't say anything at all. I'm having a sort of brain freeze.  But sometimes, just sometimes, I feel courageous and I start talking. And then, then the strange things happen. It's hard to explain. And I can't explain it better than Jessie J sings in her song 'Nobody's perfect': 
When I'm nervous I have this thing yeah I talk too much
Sometimes I just can't shut the hell up
It's like I need to tell someone anyone who'll listen
And that's where I seem to fuck up, yeah
I forget about the consequences,
For a minute there I lose my senses
And in the heat of the moment
My mouth starts going the words start flowing...
Well... Just watch the vlog ;).
First one up is a Weekend of Hell moment about Mark Boone Jr. & David Labrava....enjoy!