Tomorrow we're going to Amsterdam Comic Con! (Like you didn't already know haha). SO, today is the last post of the Amsterdam Comic Con countdown. 
Today we share our last thoughts & plans with you. We never a have a really tight schedule. We like to just run around and do whatever comes to mind. But photo ops & Q&A's are scheduled. So we need to stick to a bit of a schedule. So.. Let's talk about Amsterdam Comic Con again! 
Preparations Amsterdam Comic Con
Going to a Comic Con, always means a lot of preparation for me! First of all, I do some research. Who are the guests that are attending? Do I know them? What should I know? 
So as a preparation for this weekend I already watched for example: 
- The Lord of the Ring trilogy (Sean Astin)
- The Goonies (Sean Astin & Jonathan Ke Quan)
- Indiana Jones and the Temple of Doom (Jonathan Ke Quan)
- The Mangler (Robert Englund)
Besides that: There's the preparation'What to wear'. (Always a difficult choice). And the preparation of packing (We're staying one night in Amsterdam). And doing my hair (I always want something different on day 2 than on day 1 haha). 
And of course writing articles for Conmose.. This week we did a countdown. So we wrote and vlogged on a daily basis! 
Q&A's at Amsterdam Comic Con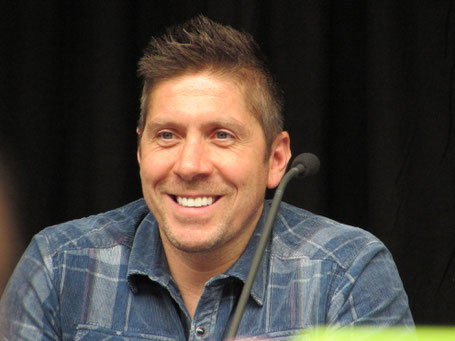 We'll be visiting the following Q&A's on Saturday: 
11:15- 11:40:Q&A Lance Henriksen 
12:00 - 12:25: Q&A Robert Englund
13:00 - 13:40: Q&A Sean Astin & Sylvester McCoy
15:45 - 16:10: Q&A Kristian NAirn & Keisha Castle Hughes
And on Sunday: 
11:15 - 11:40: Q&A Ray Park
13:00 - 13:40: Q&A James Marsters
And maybe again Robert Englund's Q&A at 16:15
I'm excited to attend all these Q&A's. There are quite some I want to see and I always enjoy attending it. 
Do you have any questions you would like to ask these actors/ actresses? Let us know in the comments! Maybe we can ask one for you during the Q&A. 
Photo ops, autographs and selfies
You can't buy autographs in advance, so we'll do that at the convention. Because I can't already buy them, I also haven't decided yet. So that will be a surprise! But I will tell everything about it after the convention. I'm curious to see how long the queues will be. 
Of course we will also do some photo ops :). Until now we've bought 2. And probably we'll do some more at Amsterdam Comic Con. But we will decide once we're there. 
I have already bought a photo op for Robert Englund on Sunday! Liv also bought this one. And she also bought a photo op for Sean Astin. 
I always love photo ops. It's a memory forever. But I do also love selfies at the (autograph) table. So maybe I'll try to get one of those as well.
Let us know in the comments: Do you have any advise on good poses for the photo ops? I usually just stand there.. Might be fun to try something new!