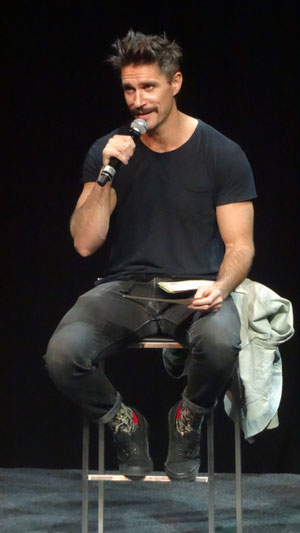 As you may know we attended ArcCon in Brussels on the 25th and 26th of June. One of the guests was Michael Rowe! Michael played the role of Deadshot (Floyd Lawton) in Arrow ( And an episode in the Flash)!
Michael was added to the guest list quite late after some cancellations. At a certain moment, a few guests had to cancel. This was quite close to the date Arccon would find place. KLZ events were doing everything in their power to find replacements (working very hard). And all the visitors tried to help as well, thinking of guests that might be available/ willing to come. 
Someone just tweeted to Arccon that they should invite Michael Rowe. Michael Rowe responded quickly himself by saying 'Let's do it'.  How does this doesn't make him already the coolest guy? So from that moment, everyone was hoping Arccon and Michael Rowe would be in contact and that the final decision would be that he would come to visit Arccon! 
And everything turned out great and Michael visited Arccon. As soon as the new came out Michael tweeted: "Ask and you shall receive. #Deadshot and his muscles are headin' to Brussels. Can't wait to meet everyone. Psyched!" 
At that moment, I was SO thrilled to read that. That was amazing news. KLZ Events and Michael made so many people incredibly happy at that moment. There was going to be another guest! Even better: It would be Michael Rowe!  
Michael Rowe's Q&A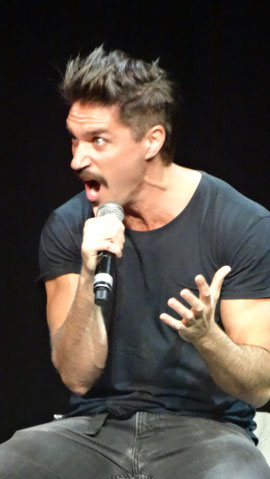 Of course Liv & I decided to go see his Q&A. And I can tell you: He turned out to be as cool as we had hoped! He was amazing during the panel. He answered all the questions, had a great sense of humor and very energetic (As you can see on this picture). We got to know many things about him. The things that he likes to do in his spare time: Scuba diving, snowboarding. Playing music is his most favorite thing to do. 
The question "How would someone get your special attention" led to a lot of laughing. He started with: "Is that like... female species???? Hahahaha. I don't know... There's so many answers to this question." Something stupid would lead to special attention but in a negative way. But sharing the same kind of humor: That means friends for life. He and Matt Ryan had a lot of fun in the hotel the night before he told. They both share this dark sense of humor. 
As a song to be his theme song he chose this song "I'm an asshole". And he started to sing it enthusiastically. That was fun to see! On to the next question: What about fame: What is the worst impact it has had on your personality? "Well, It's turning me into a real Prima Donna. And now I carry around little tiny dogs in a purse and I was at my assistant like "WHERE'S MY LATTE"." Of course all with a big laugh. he answered the questions hilariously!
His brother got him into acting. His brother was going to a film school (to be writer/ director). They started to filming stuff. And it became his new thing to do!  
Getting Michael Rowe's autograph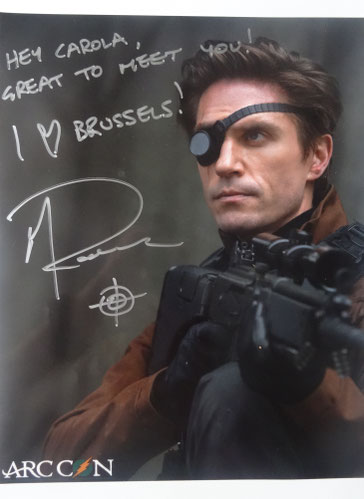 A few hours after the panel, it was time to get our autograph! There was a specific time at Arccon to go for autographs. When it was time, Liv & I queued. At first, it was a general queue (Just for any autograph). Once inside the autograph room, you could queue per actor.
And then there was the moment! It was our turn to get an autograph. Liv and I both had bought a ticket for an autograph. Michael was again very awesome and he chatted with all of his fans. I told him I was very glad that he just came on such a short noticed. He responded that he was happy to be at Arccon. He enjoyed being at the convention. And he loved Brussels (as you can also see on the picture of the autograph!). 
It was a pleasure to meet Michael Rowe. He's a great guy to meet a convention. Energetic, kind, enthusiastic and fun! And I just love that he came to Arccon on such short notice and was enthusiastic from the beginning. He really made an effort to come to the convention. He made a lot of people incredibly happy by coming to Brussels (including us). And it's just awesome how he responded to his fans on twitter and supported Arccon and all the people that visited Arccon. So, if you ever go to a convention and he's a guest. Do visit his Q&A! And really, go for an autograph or photo op! And for convention organizers: Invite Michael Rowe please :). We would like to get a photo op as well next time!