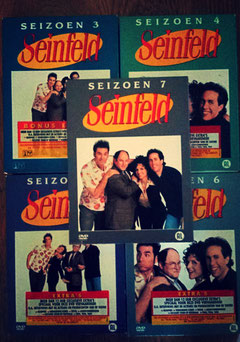 This week's series tip is a sitcom (or situation comedy), no wait it's the mother of all sitcoms. "It's a show about nothing" and it's one of the most popular comedy series ever. I am, of course, talking about:   "Seinfeld". The show aired on NBC for 9 seasons between 1989 and 1998. The show revolves around Jerry Seinfeld, a standup comedian, and his friends (and acquaintances): George Costanza (his best friend), Cosmo Kramer (his next door neighbor and friend) and Elaine Benes (his former girlfriend). "Seinfeld" was immensely popular and broke a lot of mainstream television conventions. For example: There is an episode ("The Contest" Season 4 – episode 11) about who could go the longest without masturbating. This was very controversial, because at the time masturbating was not a topic suitable for prime time television (according to NBC). Although it is quite clear the contest is about masturbating, the word is never used throughout the whole episode.  When a contender wants to tell the others he or she is still in the contest, phrases like: "I'm still master of my domain", I am King of the County", "I'm Lord of the Manor" and "I'm Queen of the Castle".
I've seen all episodes of Seinfeld (multiple times) and I still love to watch it. It's a brilliant show and that's why it's this week's Series Tip!
What is it about?
Like I said before the show revolves around Jerry Seinfeld (played by Jerry Seinfeld) and his friends. Jerry is a standup comedian (in the show as well as in real life) and he lives in an apartment in Manhattan New York (this is the main "stage" of the show). Jerry is kind of a neat freak, a big Superman Fan and in his relationships with women he has the most ridiculous reasons to break up with women (for example: for having "man hands", for not tasting his pie, for having a terrible laugh, for eating peas one at a time and for making him choose between her and the use of a silly voice, she didn't think is funny (he chooses the voice)). Then there is Elaine Benes (played by Julia Louise Dreyfus). Elaine is Jerry's former girlfriend, but after their break up they remain friends. She is attractive, assertive, kind of selfish and she often loses her temper. George Costanza (played by Jason Alexander) is Jerry's best friend since high school. He lives with his parents for a big part of the show and they drive him crazy. The thing he does best is: lying. He lies about everything mostly to get a job or a women. He is also very neurotic and insecure (this is mostly because of his dysfunctional relationship with his parents). He can be very lazy and he is "bald and stocky", but he doesn't do all that bad with women. George is afraid of Elaine. Cosmo Kramer (played by Michael Richards) is Jerry's next door neighbor. Kramer is pretty eccentric. He has a very distinctive vintage look in his clothes and haircut. He also has a very distinctive way of moving and talking. Kramer is very successful in picking up women, due to his natural charm. Overall Kramer is very caring and very honest, except when it comes to his way of making money. He has a lot of shifty acquaintances. One of Kramer's friends is Newman (played by Wayne Knight). They often collaborate in bizarre schemes to get rich. Newman is also Jerry's arch nemeses. He lives in the same building and works for the US Postal Service ("If you control the mail, you control information"). It's often said, that "Seinfeld" is a show about nothing, because it focuses on everyday life and discusses situations we can all relate to.
What about the actors?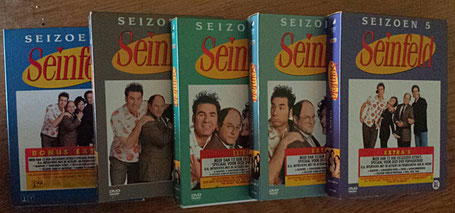 Jerry Seinfeld is not really an actor and sometimes that's very clear. This is mostly because he is surrounded by some great actors. One of my favorites is George's dad Frank Costanza, played by Jerry Stiller. He's just brilliant. You might also know him as Arthur Spooner in "The King of Queens". He has a very remarkable way of acting and steals the show in this kind of roles.  Fun Fact: Jerry Stiller is Ben Stiller's father. Julia Louise Dreyfus is great as Elaine and she has great chemistry with Jason Alexander (George). When Elaine loses her temper or shoves the guys while screaming "Get out", Julia is at her best. Also her dance with "the little kicks" is legendary. Jason Alexander is excellent as George and Michael Richard is spectacular as Kramer. His body acting is just so good. Every time he storms through Jerry's door is a delight to see. I also like Wayne Knight as Newman (especially when he freaks out) and Patrick Warburton as Puddy, Elaine's on and of boyfriend.
Who will like this?
How many seasons?
There were 9 seasons, aired between 1989 and 1998. (Fun Fact: The series finale was aired May 14th, 1998 to an audience of 76, 3 million US viewers. The top price for a 30-second commercial during the U.S. broadcast was approximately $1 million.)
Rating