It's Wednesday and that means: Time for another In The Spotlight! This week we chose Adam Sandler. Let me start by saying I'm not a big fan of comedy movies. It's not that I don't like to laugh (I do!). But they usually don't make me laugh. I often find them too predictable. But of course I do like some comedy movies. And I really like seeing Adam Sandler in a movie! So I decided to write about him this week. Adam Sandler has starred in over 60 movies and I will discuss a few. I own quite a few Adam Sandler dvds. I've seen a lot of his movies but I also haven't seen a lot them yet. So maybe I can inspire myself to pick a few to watch soon. I have mostly watched horror/ action movies lately. So it's time for some comedy!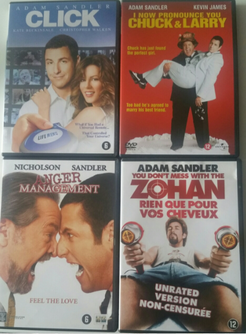 Adam Sandler is an American actor born on born September 9, 1966. He's best known for playing in comedy movies. A few examples are "Billy Madison", "Happy Gilmore", "The Waterboy", "Big Daddy", "Funny People" and a lot more! 
I like most of Adam Sandlers movie. I know not everyone feels the same way. But I always have to laugh when I watch his movies. Some more than others ofcourse. Some people say he always has the same 'trick' and that is getting old. But I think it depends on the movie. If the plot is right and the jokes are spot on, I still love it. 
Some of my favorite Adam Sandler movies: 
1. "Anger Management"
2. "I now pronounce you Chuck & Larry"
3. "You don't mess with the Zohan"
4. "Click"
5. "50 First dates"
"Anger Management" is way on top! I totally love that movie. I can't really say a lot about the movie without giving major spoilers so I won't say too much. Let's just say it's about a businessman (Adam Sandler), who is sentenced to an anger management program, where he meets an aggressive instructor (Jack Nicholson). I really recommend seeing this movie! It's a great plot, awesome actors and just very funny. 
"I now pronounce you Chuck and Larry" is about two straight fire fighters (Adam Sandler and Kevin James). They pretend to be gay in order to  receive domestic partner benefits. How will they convince everyone that they're a couple? 
The other 3 are very different. Different plots and jokes. I like all three of them. "You Don't Mess With the Zohan" is more of an action comedy,where  "Click" and "50 First Dates" are more romantic comedies. 
Have you ever noticed that Rob Schneider is in a lot of Adam Sandler movies and the other way around? They both starred in "Saturday Night Live"  and now appear in each others movies regularly. They mostly play a very small part. Saying just one line, like "You can do it!".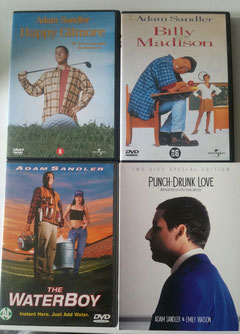 One of Sandler's most recent movies is the Do-Over. I almost watched it. But then I read so many bad reviews, that I postponed it. Have any of you seen the movie? What did you think of it? 
I own some Adam Sandler movies which I haven't watched yet. On the picture you can see them. So my watchlist still is: 
1. "Billy Madison"
2. "The Waterboy"
3.  "Happy Gilmore"
4. "Punch Drunk Love"
It's a lot of his older movies I still need to watch. And I'll make some time soon to watch one of these movies. They all seem very nice. Have you seen one of these movies? Which Adam Sandler movie do you recommend? 
Edit: I (Liv) am a big Adam Sandler fan too, but I have watched a lot of his older movies (and I likethem the most). So I feel I have to give you my top 5 Adam Sandler movies in a random order:
1. "The Wedding Singer"
2. "Anger Management"
3. "Happy Gilmore"
4. "The Waterboy"
5. "Big Daddy"
Carola you should really watch "The Wedding Singer", that movie is so very funny. What I love most about Adam Sandler are his anger outbursts in his movies (Especially the ones in "The Wedding Singer").