The Exterminator is an action/revenge movie released in 1980. This movie does have a cult following. I've heard read about it many times and always seemed very interesting to me, mostly because of the revenge aspect. And also because it seemed to be very violent and over the top hahaha. I have to say I'm not a huge fan of action movies. But I do enjoy them from time to time.  A couple a weeks ago I found this DVD at a flea market and I had to pick it up. A couple of days later I decided to give it a watch.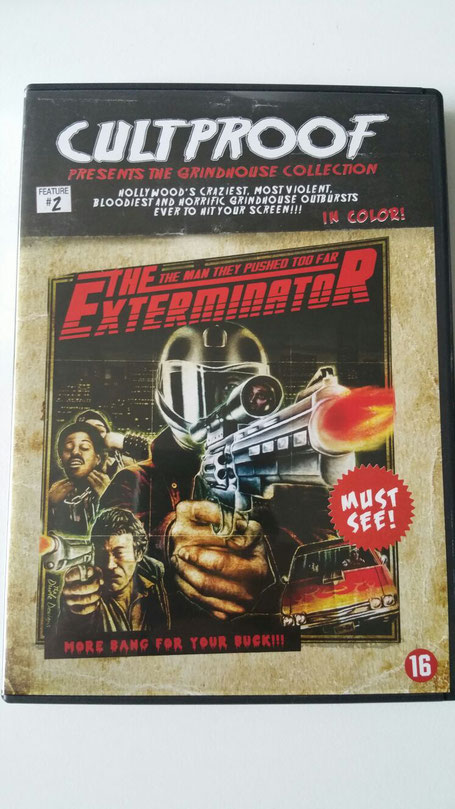 The movie starts of in the Vietnam war. The main character John Eastland (played by Robert Ginty) is captured by the Vietcong. His buddy Michael Jefferson (played by Steve James) comes out to rescue him. And it turns into a very violent shoot out with lots of explosions. Yeah I have to mention the explosions in this scene, there a lot. The scene is like 10 minutes and has explosions for about the entire time. Also one of the Vietcong guys gets his head cut off by a machete. After that we go to present day. Michael and John both work at the same warehouse were they have a job loathing drinks on trucks. John finds a bunch of thugs trying to steal some of the drinks.  These guys start a fight with John, this is where Michael comes in. Together they kick the thug's asses. But later the gang come across Michael alone and the beat him up real bad. Michael becomes paralyzed from the neck down. John swears to take revenge on the guys who did this. He starts taking out some of the bad guys and quickly becomes known as "The Exterminator" all over the news.
I really enjoyed this film a lot. There was a lot of action in it, it sometimes felled a bit over the top but that made the movie even so much better. I only feel like Robert Ginty wasn't a real good fit for the role. Usually in these types of movies the main character is a real badass or tough guy. Robert Ginty is neither of that. But still I think he did a great job and I feel this is only a minor detail.
This DVD is released by Dutch Film Works under the Cultproof series. They released only a hand full of these films under this series. Which I think is very unfortunate. But the sadly the marked for these kind of films isn't that big in the Netherlands. I own a couple of other movies in these series, "Waxwork", "Maniac Cop" and "McBain". And I'm planning to collect all the films released in this series. 
The DVD plays a bit like a VHS. By this I mean, you first get a bunch of trailers of other movies released in the Cultproof series after that the movie starts straight away. There isn't menu or anything like that. I actually like this very much, just because it gives you that nostalgic VHS feeling. Though I'd love to see some extras on it as well. But sadly there aren't any. They did a great job on the picture and sound quality. The movie looks very crispy and the sound is very clear.
If your into 80's cult films or action/revenge movies definitely check this one out. Also I have to mention that there is an sequel to this movie. I hope to find the DVD of that one someday as well.  And who knows, maybe I will also review it.