So...last weekend we went to ArcCon and because of this (and my fear of the Spotlight Curse), we have a Cooldown "ITS" this week.
I don't have to be afraid for a cancellations anymore...so this week's spotlight will about Rick Cosnett.
Rick is mostly known for his role in three popular series. The First one and also the one I know him from is "The Flash". Rick played the role of Eddie Thawne in 25 episodes of "The Flash" (I will talk about this role later on in this article). In "The Vampire Diaries", he plays Dr. Wes Maxfield for 12 episodes. The third one is "Quantico": Rick played the role of Elias Harper for 10 episodes.
We met Rick at ArcCon last weekend and we will write about this very soon, so in anticipation of this we will point our spotlight on the one and only: Rick Cosnett!
Who is Rick Cosnett?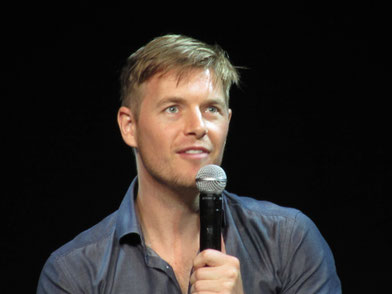 Richard James Cosnett was born on April 6th, 1983 in Chegutu (Zimbabwe). He grew up on a farm in small-town Zimbabwe. In the year 2000, aged 17, Rick and his family moved to Queensland, Australia. They first lived in Toowoomba, but after a while he moved to Brisbane to study BFA acting at the Queensland University of Technology. He later said that he worked in every restaurant in Sydney, worked for the Shopping Channel and he even played a Mad Scientist in a kid's show.
Eventually Rick moved to the US and he began working in theatre and some short films. He also played in some movies like "The Bet"(2006).
In 2013 his big break came when he landed the role of Dr. Wes Maxfield in the fifth season of "The Vampire Diaries". He later said he felt like the new kid in school, because he walked in to a show that was already in the fifth season. Dr. Wes Maxfield is a professor at Whitmore College. He is obsessed with conducting research on vampires, trying to find a way to make them feed of each other. His ultimate goal is the extinction of vampires. Rick played Dr. Maxfield for 12 episodes in 2013/2014. His real breakthrough however came with the role of Detective Eddie Thawne in CW's "The Flash".  He played this role for 25 episodes throughout the first seasons and some flashback scenes in season 2.
In 2015 Rick got the role of Elias Harper in "Quantico". Elias Harper is a former defense attorney that is recruited by the FBI to work as an analyst at Quantico (a training site for new Special Agents and Intelligence Analysts). He played the role for 10 episodes.
In 2016 Rick also worked on a movie called "Skybound". The production of this movie is finished and will probably be released late 2016/early 2017. It's about five friends in a small airplane. Suddenly they lose contact with the ground and they discover a stowaway, which urges them not to land at any cost. While running out of fuel they have to find out what is happening. Rick plays the role of Matt.
Fun Fact: Rick is said to be a cousin of actor Hugh Grant.
The Flash: Eddie Thawne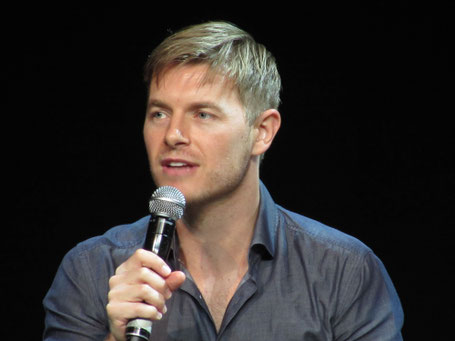 First of all: there may be spoilers ahead...so beware.
In "The Flash" Rick Cosnett plays the role of Eddie Thawne, a police detective at the Central City Police Department. He is the partner of Joe West, who is also the stepfather of Barry Allen and the father of Eddie's girlfriend (and love of Barry's life): Iris West. He is one of the first police officer's to learn about the existence of metahumans in Central City (due to the Particle Accelerator Explosion at S.T.A.R. Labs). When Barry wakes up out of his coma and discovers he has become a speedster, he also discovers Eddie and Iris are dating when he goes back to work (as a forensic investigator). While Eddie is the ultimate good guy most viewers don't know whether to like him, because of his relationship with Iris. I had the same problem when I started watching the show, I mean I likes Eddie (what's not to like?), but you keep feeling that Iris belongs to Barry. But while the first season progressed I grew to like Eddie and kind of felt bad for him, when Iris and Barry seemed to be growing closer. Eventually Eddie finds out that Barry is The Flash. When Eddie is kidnapped by the Reverse Flash, a time-traveling Eobard Thawne it is revealed that Eddie is his ancestor. At the end of season 1 Eddie sacrifices himself to prevent Eobard from being born and save the lives of his friends and the city, by stabbing himself to death. Just when you start to really like him, huh? However with the events in season 2, where Barry time travels to prevent the Reverse Flash from killing his mom, suddenly anything can happen. Will we see more of Eddie in Season 3? I sure hope so!
Last weekend we met Rick Cosnett at ArcCon and we will write about this very soon. I already liked him because of his role of Eddie Thawne, but after this weekend I will surely check him out in other projects like "The Vampire Diaries"and "Quantico".