The next convention that Liv & I will be attending is Arccon! Arccon is a fan convention with guests from the series "The Flash" and "Arrow". We watch both series and really love it. We're definitely very excited to go to Arccon. To make the waiting a bit easier, we'll do an Arccon countdown. We'll discuss which guests will be there and what we are planning on doing.Last week we started with the Arccon countdown and on Wednesday we already wrote an In the Spotlight about Colton Haynes.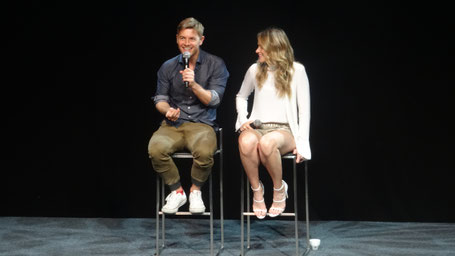 This week, it's all about the autographs and photo ops! Because of course we won't survive a convention without that! It's always hard to decide what you want (For me at least). I love photo ops, because you get a photo with the actor/ actress (No shit Sherlock that's why it's a photo op). What I mean is: It's such a nice reminder. You can always still look at the picture, show it to others. It says so much! On the other hand, You only have a few seconds with the actor/actress. Photo ops tend to go really really quick, so enjoy the moment while it lasts! 
Autographs are awesome as well! For me it's not even only about getting the actual autograph. It's way more about the moment! Unlike photo ops, getting an autograph does give you some time with the actor or actress. You can pick a photo to get signed, ask a question during signing. There's way more interaction! My best memories are from getting an autograph. The only disadvantage (if they don't do selfies), is that you 'just' have the autograph. I love a picture as a memory a bit better. But then again: The autograph gives you a memory to never forget: the actual interaction and ability to spend a moment with the actor or actress. 
So, over to Arccon specifically: What will we do at Arccon? At Arccon, you have to buy photo ops and autographs on forehand. So we have to decide early! (Normally I'm deciding spontaneously, so I have to get used to the planning part a bit!). When Arccon came with a great promotion, ofcourse Liv and I couldn't resist. We decided to go for it! In that promotion we bought/ got: A photo op and autograph for Colton Haynes, a photo op and autograph for Rick Cosnett and an autograph for Manu Benett! OMG!! We were so excited. I can't imagine that we'll do all of this in june! And then the moment came that Katie Cassidy was announced as a guest! Well, how can we resist that? Liv had her birthday last monday so I decided to give her an autograph for Katie. I also bought one for myself! Yeah! Arccon clearly will be a lot of fun. And we're still thinking about more.. Let's see if we can resist the temptation. Maybe I also want a photo op with Katie.. Or an autograph or photo with Shantel.. Choices, choices! 
What did you buy? Should we buy more ;). What do want to read about after we went to Arccon?