Saturday is "In The Spotlight"-day...Yes?....No! Usually Wednesday is our "Spotlight"-day. But this weekend we are happy to publish a special "In the Spotlight". Why? Well this week "The H8teful Eight" was released on DVD in the Netherlands and because of this it's Michael Madsen-weekend!
---
In the spotlight this weekend is the man who portrayed the memorable role of Mr. Blonde in Quentin Tarantino's Reservoir Dogs,  the man who defines "cool": Mr. Michael Madsen.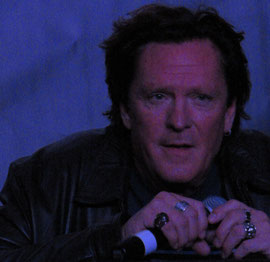 Michael Søren Madsen was born on September 25th 1958 in Chicago, Illinois. He is the older brother of Virginia Madsen (mostly known for her role as Helen Lyle in the 1992 horror movie "Candy Man" and the Academy Award-winning "Sideways").
Madsen began his acting career at the Steppenwolf Theater Company in Chicago. Fun Fact: This company was founded by Gary Sinise (Forrest Gump, CSI: New York, Ransom), Terry Kinney (Tim McManus in OZ)  and Jeff Perry (Nash Bridges, Lost, The West Wing). Back to Mr. Madsen. At the Steppenwolf Theater Company, Madsen served as an apprentice under John Malkovich (Con Air, The Killing Fields, Being John Malkovich). Apparently Madsen and a friend went to see a production of "Of Mice and Men", in wich Malkovich played the role of Lenny. Madsen was really impressed by what he saw and he went backstage to talk to Malkovich. He told him he wanted to be an actor and wrote down his address. After this Madsen expected never to hear from him again. A few weeks later, however, Madsen recieved  mail from Malkovich.It was a brochure to study with them at Scene Study Class.
In 1982 Madsen landed his first lead role in the independent movie: "Against all Hope". In the years following Madsen moved to L.A. and played in other movies like: "The Natural", "Kill me again" and "Thelma&Louise". His real breakthrough however came with his role as the psychopathic and sadistic Vic "Mr. Blonde" Vega in Quentin Tarantino's "Reservoir Dogs".  In my opinion he is awesome in this role, but he originally wanted the role of Mr. Pink (Steve Buscemi). Mr. Pink has a lot of scenes with Harvey Keitel and Madsen really wanted to play with Keitel. (He had played with Keitel in "Thelma & Louise", but all of these scenes got cut out of the movie). After his audition for Mr. Pink, Tarantino apparently said: "You're not Mr. Pink, you're Mr. Blonde. And if you're not Mr. Blonde, you're not in the movie".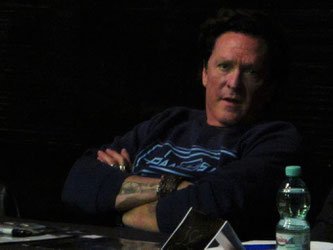 After this great role, Madsen played in a lot of big movies and in a lot of movies I really love ,like: "Mulholland Falls", "Donnie Brasco", "Species" and "Wyatt Earp". If it wasn't for this movie, we never would have seen John Travolta and Uma Thurman do their legendary dance in Tarantino's "Pulp Fiction". Why??? Because Tarantino originally wanted Michael Madsen to play the role of Vincent Vega, but Madsen couldn't get out of rehearsals for "Wyatt Earp". Later however he teamed up  with Tarantino for: "Kill Bill" and the 2016 movie "The Hateful Eight". Another great movie Madsen starred in is Frank Miller's "Sin City". 
The list just goes on and I'm sure I forgot some great movies. However Madsen also played in a lot of B-movies. About this he has always been very honest: "I wasn't about to move my six kids into a trailer park. So when people offered me work, it wasn't always the best, but I had to buy groceries and I had to put gas in the car".
In his 25 years of acting,  Madsen played in more than 170 movies. These include a lot of great movies and some of my personal favourites ("Reservoir Dogs", "Donnie Brasco", "Sin City"). Last year at Weekend of Hell, I had the chance to meet Mr. Cool...you can read about this on Conmose very soon!