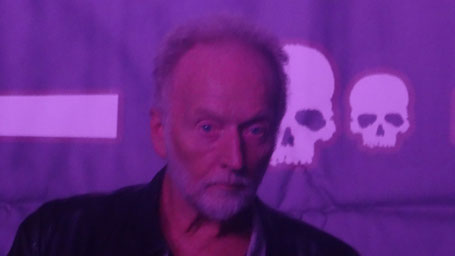 I was thrilled when I heard that Tobin Bell would come to Weekend of Hell. I love all the "Saw" movies, so meeting Tobin would be a big moment! As soon as I knew he would be at Weekend of Hell, I purchased the photo-op. 
When we entered Weekend of Hell, we went to see the starguests. It's a big moment at a con, especially if there are a lot of guests you haven't seen before. It gives you an impression: How are theywith their fans, what's their attitude. But also: how does the convention handle this. Can you make photos? Are the stars approachable? We had been to Weekend of Hell before so we knew what I could expect. 
Tobin Bell photo op at Weekend of Hell
That being said, I was a bit worried when I walked in. I immediately saw that Tobin's place was shielded. You could barely see him when there was a queue for the autograph (And of course there was a queue! Constantly!). You couldn't take a picture, a guy waved at us that we weren't allowed to do so. So, I started to worry a bit. This way, Tobin Bell seemed very distant and I started to wonder: do I still want the photo op?  What if he's just on the con dutifully, not really wanting to be there. But, I already bought the photo op and maybe my suspicions weren't true at all. The queue for the photo op was quite long, but moved on quickly. When it was my turn, I was a bit nervous and walked to Tobin Bell. I instantly felt better when he smiled and greeted me. Doing the photo was great, he was very friendly and even said he liked my hair :). While he said that, in my head I saw the scene from "Saw", where a girls' ponytail gets ripped of off her head haha. But Tobin Bell was actually great. I'm glad I bought the photo op, it was great to meet him! 
The day after, we also visited Tobin's Q&A. I hadn't seen a lot of him on the con, because his table was so shielded. But when he came out, he just looked happy and even jolly. Tapping people on the cap and greeting fans. His Q&A only confirmed this. Tobin Bell was very open and answered all the questions. He really had a story to tell. I was fascinated by the stories he told about "Saw", his other movies and what "Saw" really means to him. 
Conclusion: As a huge "Saw"-fan it was an awesome experience to meet Tobin Bell. The photo op was great. He was kind, funny and had a great story to tell. I don't know why he sat so shielded all day, or why you couldn't take pics when he sat for autographs (You could take pictures during Q&A), but that might be a management decision. All in all it was great to meet Tobin Bell and I'm so gad I did!