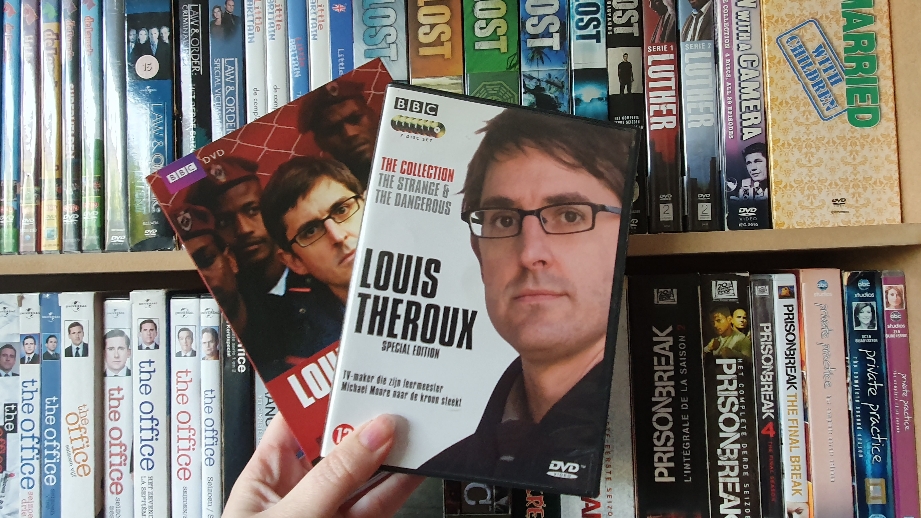 Let's talk about documentaries! Louis Theroux is a British Documentary maker. Recently, a new documentary has been aired: Drinking to Oblivion. Enough reasons to put him in the spotlight! 
I really enjoy watching Louis Theroux's documentaries. I'm always waiting for some new documentaries to come out! What I like the most is his style of documentary making: the way he interviews people and tries to understand the way that they live, discuss it and reflect on it. 
I own the dvd that contains documentaries from The Collection and The Strange and Dangerous. It's a special edition which  includes as extra's fragments from Louis Theroux TV Nation, the Weird World of Louis Theroux and in-vision comments on 5 episodes. Louis Theroux also brought out some specials, a movie (My Scientology Movie) and most recently 'Drinking to Oblivion'. Unfortunatelythere isn't a dvdbox with the complete collection on it (Till so far). I hope that will ever be sold, I'd certainly buy it. 
In When Louis met... , Louis Theroux follows a British celebrity in their daily lives. There have been two series of this. There were for example documentaries about the Hamiltons, Chris Eubank and Jimmy Savile. 
In Louis Theroux's Weird Weekends, he follows people with extreme beliefs or people or who belong to a certain sub-culture. I think these documentaries are very interesting. It grants you an unique look at their way of life. Louis tries to understand it and asks a lot of (sometimes quite confronting) questions. You get to know these people a bit, learn about what motivates or drives them. I enjoy seeing Louis Theroux reveal many sides of their story. I especially love it when he deliberately asks these questions that seem naive or obvious. But it actually gets people thinking and explaining. 
For example: In the documentary 'Swingers': He goes to the supermarket with a woman who organises swinger parties with her husband. He keeps asking her, if they shoudn't tell the cashier why they are buying so much stuff. The woman said that when someone asks about it, she'd just say she is giving a pool party. At the cash register, she says the camera's are there because it's a documentary about big supermarkets. Louis keeps pressing on why she won't tell it's for a swingers party and why she told a lie. Well, the answer to the question seems obvious. Not only why she doesn't want to share she's a swinger. But also: Why would you tell a cashier why you're buyng stuff? It's none of their business. But that's not what Louis tries to do. By continuing to ask this question, she talks more and more about how she thinks other people look at her lifestyle. Or how they would react to it if they knew. And it makes her reflect on herself as well. What influence does it have? What does the 'world' think about this? And that's what I love about these documentaries. With seemingly simple questions, he gets so much insights. And it's fun to see how people react. Some enjoy the questions he asks, they can laugh about it. Some get irritated and don't want to explain further. 
But those of you who are now thinking it's just all about naive questions, are mistaken. The documentaries are very well built up, it's serious when needed, but there's a touch of humor when possible and appropriate. It exposes contradictions, taboos and ways of life we possibly didn't know anything about. But yet, you will not only question what you see, but you'll question your own point of view as well. 
My favourite documentaries are:
Thai Brides
In this documentary, Louis Theroux is going to Bangkok. He is visiting a marriage agency that lets Thai women meet Western men. It's interesting to see the story from both sides. What drives these women and what are the men looking for. But also: how is the agency handling this? This is a business for them and you get a look in how they work and what's their vision on helping these people find a partner.
Louis Theroux's LA stories: Among the Sex Offenders
This one was very interesting as well. It's a risky subject. But Louis manages to portray a very integer story. It surprised me. The documentary is very well constructed, but also confronting. What's really going on and how do people live in society after for example getting out of prison.   
Most hated family in America
This documentary is about the Westboro Baptist Church. Louis Theroux interviews the members of this church and shows their extreme beliefs.  (They're known for their homophobia and picketing at funerals of soldiers). 
So, what are you going to do this evening? Watch a Louis Theroux documentary ;). You won't regret it! 
And hopefully Louis will make many more documentaries! If he's ever interested in making a documentary about movie/ series/fan convention addicts.. Well... He's welcome in the Netherlands ;).